B'z LIVE-GYM '93 "RUN"
Jump to navigation
Jump to search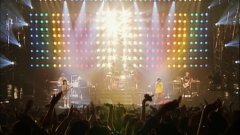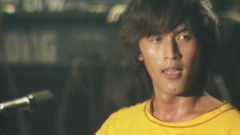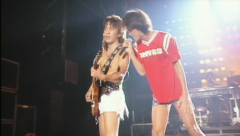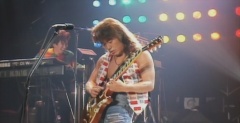 B'z LIVE-GYM '93 "RUN" was the first of two LIVE-GYM tours held by B'z in 1993. The tour, serving to support the album RUN, was a major success for the band that ran from January 30, 1993 to June 30, 1993, with both a hall tour and an arena tour. Every song from the album was ultimately played on the tour, though some were alternated with each other, such as the case with "Akai Kagerou" and "Gekkou" filling a ballad spot early in the setlist. When the tour moved to the large-scale arena venues, a group acoustic version of "Easy Come, Easy Go!" was added to the setlist.
While filmed, the entirety of the show has never been officially released on home video. However, excerpted performances have been released on the years, beginning with "Mou Ichido Kiss Shitakatta" as part of B'z The Best "ULTRA Pleasure" in 2008. Shortly thereafter, Hidden Pleasure ~Typhoon No.20~ included a number of performances from the show, ranging from "Hadashi no Megami" and "ZERO" to "Ai no Mama ni Wagamama ni Boku wa Kimi Dake wo Kizutsukenai"—the last of which was also released on B'z The Best XXV 1988-1998 as the song's substitute music video. Additionally, an audio recording of "RUN" as performed during the show was included as one of six exclusive tracks on The Complete B'z. Most recently, a solo Tak performance of "Strings of My Soul" from the tour was made available in 2012 as part of his solo album Strings Of My Soul.
Touring Band
Setlist
Hall Tour
OPENING SE: RUN (Instrumental)
ENCORE
ENDING SE: Sayonara Nanka wa Iwasenai (Instrumental)
Arena Tour
OPENING SE: RUN (Instrumental)
ENCORE
ENDING SE: Sayonara Nanka wa Iwasenai (Instrumental)
Home Video Recordings
June 17, 1993 — Yoyogi National Stadium
June 18, 1993 — Yoyogi National Stadium
ZERO (B'z LIVE-GYM Hidden Pleasure ~Typhoon No.20~)
Venues
1993.01.30

Urawa City Cultural Center
1993.01.31

Urawa City Cultural Center
1993.02.04

Osaka Festival Hall
1993.02.05

Osaka Festival Hall
1993.02.09

Nagoya Century Hall
1993.02.10

Nagoya Century Hall
1993.02.15

Hiroshima Welfare Pension Hall
1993.02.16

Hiroshima Welfare Pension Hall
1993.02.18

Fukuoka Sun Palace
1993.02.19

Fukuoka Sun Palace
1993.03.06

Nakano Sun Plaza
1993.03.07

Nakano Sun Plaza
1993.03.16

Omiya Sonic City
1993.03.17

Omiya Sonic City
1993.03.22

Niigata Prefectural Civic Centre
1993.03.23

Niigata Prefectural Civic Centre
1993.03.25

Ishikawa Koseinenkin Kaikan
1993.03.26

Ishikawa Koseinenkin Kaikan
1993.04.03

Ehime Prefectural Cultural Center
1993.04.04

Ehime Prefectural Cultural Center
1993.04.06

Kagawa Prefectural Hall
1993.04.07

Kagawa Prefectural Hall
1993.04.15

Aomori City Cultural Center
1993.04.16

Aomori City Cultural Center
1993.04.22

Sapporo Welfare Pension Hall
1993.04.23

Sapporo Welfare Pension Hall
1993.04.26

Kurashiki City Center
1993.04.27

Kurashiki City Center
1993.05.01

Nagano China Culture Center
1993.05.02

Nagano China Culture Center
1993.05.07

Sapporo Welfare Pension Hall
1993.05.08

Sapporo Welfare Pension Hall
1993.05.11

Sendai Sun Plaza
1993.05.12

Sendai Sun Plaza
1993.05.20

Okinawa Convention Center
1993.05.21

Okinawa Convention Center
1993.05.27

Fukuoka Sun Palace
1993.05.28

Fukuoka Sun Palace
1993.05.30

Kagoshima Civic Cultural Hall
1993.05.31

Kagoshima Civic Cultural Hall
1993.06.08

Nagoya Rainbow Hall
1993.06.10

Nagoya Rainbow Hall
1993.06.11

Nagoya Rainbow Hall
1993.06.15

Yoyogi National Stadium First Gymnasium
1993.06.17

Yoyogi National Stadium First Gymnasium
1993.06.18

Yoyogi National Stadium First Gymnasium
1993.06.28

Osaka Jo Hall
1993.06.29

Osaka Jo Hall
1993.06.30

Osaka Jo Hall