Fukiarenasai
From B'z Wiki
Fukiarenasai
Single by B'z
Released
November 23, 2016
Promotions
#1 (Shippu Rondo Theme)
Length
04:01
Label
Vermillion Records
Producer
Tak Matsumoto
B'z singles chronology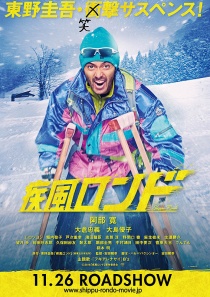 Fukiarenasai (フキアレナサイ, Blow Violently) is a digital single by B'z, released only in Japan on November 23, 2016 via the Japanese iTunes store and all other major online music retailers in the country. This would be the band's third digital single and second in Japanese, following the 2012 release of English song "Into Free -Dangan-" and "Sekai wa Anata no Iro ni Naru" just one month prior in October 2016. Later, in June 2017, the song was released as the fourth track on the double A-side single "Seimei/Still Alive".
The existence of the song was announced and previewed on September 12, 2016 with the release of a trailer and press release for the action-comedy film Shippu Rondo starring Hiroshi Abe. Because of the action-oriented nature of the film, which was based on a novel by esteemed mystery writer Keigo Higashino, the producers' only request was that the song have the same feeling as a winter version of "ultra soul".
As revealed in Be With! after its release, the song was made available as a digital exclusive single due to the band's ongoing solo commitments as with the previous digital release. Additionally, and unusually for the band's workflow, "Fukiarenasai" was recorded separately with Koshi in Tokyo and Tak in Los Angeles.
Track listing
All music and guitar by Tak Matsumoto. All lyrics and lead vocals by Koshi Inaba.
Fukiarenasai — Blow Violently, フキアレナサイ

Sorry, your browser either has JavaScript disabled or does not have any supported player.
You can download the clip or download a player to play the clip in your browser.

Envisioned as a winter version of "ultra soul", "Fukiarenasei" was written for the action film Shippu Rondo. Due to both members' ongoing solo projects, the song was recorded and produced separately while Koshi worked with Stevie Salas in Tokyo and Tak worked with Daniel Ho in Los Angeles. The track features Jason Sutter and occasional B'z collaborator Juan Alderete on drums and bass, respectively, with the former having worked with Tak during production on enigma and on tour for Tak Matsumoto Tour 2016 -The Voyage-.
Live appearances
Live Performances
Fukiarenasai [20 SHOWS]

7-Eleven presents B'z PREMIUM LIVE [2/2 SHOWS]
B'z LIVE-GYM 2017-2018 "LIVE DINOSAUR" [18/18 SHOWS]
Home Videos
Sales data
No.
Cover
Digital Single
Physical Copies Sold
Chart Positions
Certification
FIRST WEEK
LIFETIME
WEEK
MONTH
YEAR
4

Fukiarenasai
2016.11.23

—

—

—

—

—
Personnel
B'z
Support Members
Production
External links