Sekai wa Anata no Iro ni Naru
Jump to navigation
Jump to search
Sekai wa Anata no Iro ni Naru (世界はあなたの色になる, The Color This World Will Take Depends on You) is a digital single by B'z, released only in Japan on October 4, 2016 via the Japanese iTunes store and all other major online music retailers in the country. While B'z has had digital endeavors such as the 2012 globally-released English album, its corresponding digital single, and the earlier 2007 International EP, this is their first Japanese digital exclusive single, although Koshi Inaba has used the format successfully for his solo projects beginning with "Nensho" in 2014. The following month, the band released "Fukiarenasai" as second Japanese digital exclusive single and third overall for the format. Later, in June 2017, the song was released as the third track on the double A-side single "Seimei/Still Alive".
The song was first unveiled at the end of February 2016 when premiered during a trailer to the twentieth film in the Detective Conan franchise, The Darkest Nightmare. The song would serve as the theme to the film and months later as the opening to the television series.
As revealed in Be With! after its release, the song was made available as a digital exclusive single due to the band's ongoing solo commitments. B'z felt releasing it digitally was the ideal move at the time, given it was not the right moment to come back big as B'z and that releasing digitally would require less footwork.
Track listing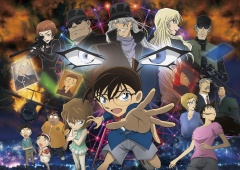 All music and guitar by Tak Matsumoto. All lyrics and lead vocals by Koshi Inaba.
Sekai wa Anata no Iro ni Naru — The Color This World Will Take Depends on You, 世界はあなたの色になる

File:e2 01.ogg The fifth movie theme provided by the band for the Detective Conan film franchise, "Sekai wa Anata no Iro ni Naru" is a special entry for several reasons. The darker tone of the music intentionally contrasts with other songs B'z have contributed to the series. In the writing and recording process, Koshi noted that they aimed to create a different sort of song because the movie itself intended to center in on some of the "darker parts of Conan's story".
Live appearances
Live Performances
Sekai wa Anata no Iro ni Naru [13 SHOWS]

B'z SHOWCASE 2017 -Hissatsu Hiokinin- [1/1 SHOWS]
B'z SHOWCASE 2017 -B'z In Your Town- [11/11 SHOWS]
B'z SHOWCASE 2020 -5 ERAS 8820- [1/5 SHOWS]
Home Videos
Sales data
No.
Cover
Digital Single
Physical Copies Sold
Chart Positions
Certification
FIRST WEEK
LIFETIME
WEEK
MONTH
YEAR
3

Sekai wa Anata no Iro ni Naru
2016.10.04

—

—

—

—

—
Personnel
B'z
Support Members
Production
External links