Seimei/Still Alive
Jump to navigation
Jump to search
Seimei/Still Alive
Single by B'z
from the album DINOSAUR
Released
June 14, 2017
Recorded
2016-2017
Promotions
#1 ("UCC Black")
#2 (A LIFE, Event GO!)
#3 (Detective Conan: The Darkest Nightmare)
#4 (Shippu Rondo)
Length
17:23
Label
Vermillion Records
Producer
Tak Matsumoto
B'z singles chronology

52nd Single



RED
(2015)
53rd Single



Seimei/Still Alive
(2017)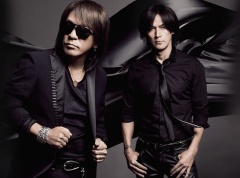 Seimei/Still Alive (声明, Declaration) is the fifty-third single by B'z and their third double A-side, released on June 14, 2015. It is their first since 2015's non-album single "RED" and stands as the single with the most unique tracks in their catalogue. Two months after its release, it was reprinted with new art as part of the deluxe collector's item B'z COMPLETE SINGLE BOX. Later that same year, both songs would be found on the band's twentieth studio album DINOSAUR.
The single also collects digital singles "Sekai wa Anata no Iro ni Naru" and "Fukiarenasai" for the first time on a physical B'z release, which were released in October and November of 2016 respectively. Both songs served as themes to feature films, with the former being featured in the 2016 anime film Detective Conan: The Darkest Nightmare and later as the opening to the corresponding television series and the latter in the action-comedy film Shippu Rondo.
Track listing
All music and guitar by Tak Matsumoto. All lyrics and lead vocals by Koshi Inaba.
Special Editions
Cover
Contents

Seimei/Still Alive CD & DVD Edition
The CD & DVD edition includes the single CD alongside a bonus DVD featuring a dedicated music video for second A-side "Still Alive". The first footage of the video was premiered on a May episode of Music Station in which it was noted that its conceptual premise was "hajimari" (Beginnings). The video features the band performing against a CGI background and is reminiscent of those for "SUPER LOVE SONG" and "BURN -Fumetsu no Face-".

Seimei/Still Alive "UCC Black" Edition
The special "UCC Black" Edition includes the single CD and a specially designed coaster set featuring B'z insignias and decals. The retail price came in at 2160 yen, making it the most expensive of the three variations available for the single. Additionally, a redemption code included only in the "UCC Black" package gives purchasers the chance to be one of 10,000 to receive a set of B'z-branded cans of the drink itself.
Live appearances
Sales data
No.
Cover
Single
Physical Copies Sold
Chart Positions
Certification
FIRST WEEK
LIFETIME
WEEK
MONTH
YEAR
53

Seimei/Still Alive
2017.06.14

120,000+

154,000+

1

4

—

Gold
Personnel
B'z
Support Members
Production