RED
From B'z Wiki
RED
Single by B'z
Released
June 10, 2015
Promotions
#1 (Hiroki Kuroda Mound Theme)
#1 (PerfecTV! Baseball Theme)
#1 (Sukkiri!! Theme)
Length
3:56
Label
Vermillion Records
Producer
Tak Matsumoto
B'z singles chronology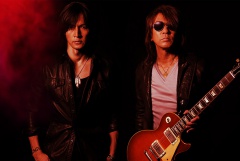 RED is the fifty-second single by B'z, released on June 10, 2015. It is their second single of 2015 following the release of "Uchouten" six months earlier, and is the band's first non-album single since 2012's "GO FOR IT, BABY -Kioku no Sanmyaku-". Of special note is that the single is only the second in the band's entire catalogue—following 1996's release of "Real Thing Shakes"—to contain only one track. Additionally, the song was not planned for immediate release as a single but an effort to release it was put in place due to fan demand. The song premiered on March 29, 2015 when it was played as the mound music for Hiroshima Toyo Carp pitcher Hiroki Kuroda, for whom the song had been written. This would mark the first occasion in which B'z had composed a personal theme for another individual.
A preview of the dedicated music video for the title song—the full version of which would also be included in a special CD and DVD edition of the single—was launched on the band's official website on April 22, 2015. The video incorporated the first public footage from B'z LIVE-GYM 2015 -EPIC NIGHT-, using portions of the band's live performance from the showings at Yokohama Arena overlaid with new footage of Tak and Koshi on a sound stage along with fire-infused CGI.
Two additional tie-in promotions were announced for the single leading up to its release. "RED" would serve as the June 2015 theme to NTV news program Sukkiri! and as the theme to a pair of SKY PerfecTV! Hiroki Kuroda commercials for their baseball season coverage.
The single premiered at the top of the Weekly Oricon Singles chart upon release, becoming the band's forty-eighth consecutive single to do so. With over 157,000 physical copies sold in its first week, the single became the band's biggest debut of the sort since 2011's "Don't Wanna Lie".
Track listing
RED

Sorry, your browser either has JavaScript disabled or does not have any supported player.
You can download the clip or download a player to play the clip in your browser.

A rhythmic hard rock anthem, the song was written at the request of Hiroshima Toyo Carp pitcher Hiroki Kuroda. Tak and he had met in Los Angeles previously during which Kuroda asked Tak to compose a mound theme to be played when he made his pitching appearances. Kuroda, who had previously pitched in the United States prior to returning to finish his career in his homeland, began using the song during his scheduled outing on March 29, 2015. The composition begins with a banjo intro prior to moving into a hard rock riff, eventually culminating in a singalong chant at several points in the song, making it ideal for playing in baseball stadiums. Koshi stated that he imagined a "Samurai coming back from America" as the central feel behind the song. Interestingly, the lyrics include an allusion to a statement by prominent Bakumatsu era samurai Sakamoto Ryoma. A quote attributed to Ryoma—"Warawaba warae, ware wa ware no michi wo iku" (Laugh at me all you want, I'm going my way)—is incorporated into the song, with the line becoming "Warawaba warae, I'm going my way" in the song.
Special Editions
Image
Contents

RED CD & DVD Edition
The CD & DVD edition includes the single CD alongside a bonus DVD featuring a dedicated music video for the title song. A forty second sample of the video was showcased on the official website to announce the single. The video features the first footage from the hall tour of B'z LIVE-GYM 2015 -EPIC NIGHT-, with shots incorporated from a performance by the band at Yokohama Arena.

RED CD & Wristband Edition
The special CD & wristband edition includes the single CD and a specially designed wristband sporting the signature colors of the Hiroshima Toyo Carp with both "RED" and B'z insignias. The retail price came in at 1600 yen, making it the most expensive of the three variations for the single.
Live appearances
RED [16 SHOWS]
Sales data
No.
Cover
Single
Physical Copies Sold
Chart Positions
Certification
FIRST WEEK
LIFETIME
WEEK
MONTH
YEAR
52

RED
2015.06.10

157,000+

190,887+

1

1

32

Gold
Personnel
B'z
Support Members
Production