B'z LIVE-GYM 2015 -EPIC NIGHT-
From B'z Wiki
B'z LIVE-GYM 2015 -EPIC NIGHT-
LIVE-GYM by B'z
Start Date
March 11, 2015
End Date
July 26, 2015
Country
Japan
Songs
20 (Hall Tour)
21 (Dome Tour)
20 (epic night)
Home Video
B'z LIVE-GYM 2015 -EPIC NIGHT-
Shows
27 (Hall Tour)
9 (Dome Tour)
4 (epic night)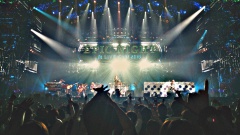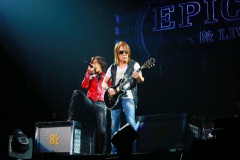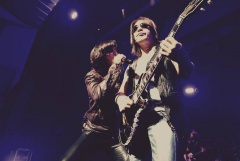 B'z LIVE-GYM 2015 -EPIC NIGHT- is a LIVE-GYM by B'z that took place from March 11, 2015 through July 26, 2015 in support of their nineteenth studio album EPIC DAY. Unlike with most tours by the band, the first batch of dates for the tour were announced early, in October 2014, without a final title attached. The title was revealed along with the unveiling for their fifty-first single "Uchouten", with the dome tour dates and venues being revealed with the release announcement to the album.
On March 5, 2015, local newspapers in Shimonoseki began advertising for the customary SHOWCASE event that would precede the tour, entitled B'z SHOWCASE 2015 -Shimonoseki Uchouten NIGHT-. At the close of the hall and arena portion of the tour at the end of May, the band announced four additional dates under the banner of B'z LIVE-GYM 2015 -epic night-. The added shows would take place between the dome shows at Zepp music halls around Japan but due to taking place at venues with a capacity of only 2,000 would require strict verification in order to purchase and use tickets. In order to prevent scalpers from profiting from the intimate showings, a passport and proof of residence would need to be registered for both the primary ticket holder and their guest upon purchase that would need to be presented at the show.
On November 19, 2015, several months after the close of the tour proper, B'z performed a fanclub-only show under the title B'z SHOWCASE 2015 -Shinagawa Uchouten NIGHT-. The show was held at the Shinagawa Stellar Ball with the audience comprised entirely of B'z PARTY members. The fourteen song setlist was similar to that of EPIC NIGHT, but with the addition of several classics and rarities, including the first ever performance of 1994 B-side "hole in my heart". Another show took place days later for the TV Asahi Dream Festival 2015.
The finale to the tour was filmed at Nagoya Dome and released on February 24, 2016 as B'z LIVE-GYM 2015 -EPIC NIGHT- on DVD and Blu-ray.
Touring Band
Setlist
Hall Tour
For the hall portion of the tour, several fan favorites and scarcely-performed tracks were revived. The setlist included performances of "Don't Leave Me" and "HOME" for the first time in seven and eight years, in addition to album tracks such as "Blue Sunshine" and "Swimmer yo!!" making their reappearance after six and seven years. Their popular self-cover of "HEAT" returned as a permanent part of the setlist after its last brief appearance three years ago in B'z LIVE-GYM 2012 -Into Free- EXTRA. Notably, "Baby, you're my home" and "Atsuki Kodou no Hate" were revived, after over a decade of absence since their years of debut; 1993 and 2002 respectively. The 2008 single "BURN -Fumetsu no Face-" makes a comeback after a six year absence, leading into new hard rock tracks "Las Vegas" and "EPIC DAY". The hall tour setlist alternated occasionally in pairs: "Don't Leave Me", "BLOWIN'" and "TIME" with "love me, I love you". Starting from March 28, "BE THERE" began alternating with "HOME" in the same spot, with a similar situation also applying to "Baby, you're my home" and "Blue Sunshine". For the first few dates, the closing song often alternated between popular singles "Ai no Bakudan" and "girigiri chop". However, from March 22 onwards, "Ai no Bakudan" became the sole closing track.
Opening SE: Whitesnake "Walking in the Shadow of the Blues"
ENCORE
Ending SE: Hitori Janai Kara -Theme Of LIVE-GYM- / *Unreleased Song* (Until April 12th) — RED / *Unreleased Song* (From April 17th) — RED (From April 22th)
Dome Tour
ENCORE
Ending SE: Hitori Janai Kara -Theme Of LIVE-GYM- / *Unreleased Song*
epic night
The setlist to the tour extension at various Zepp establishments—most with a capacity of 2,000, making tickets extremely scarce—was similar to that of the dome tour. However, the bluesy version of "ZERO" was excised and EPIC DAY album song "Kimi wo Ki ni Shinai Hi Nado" was swapped for its album brethren "Classmate", which saw its live debut as a result.
Opening SE: Whitesnake "Walking in the Shadow of the Blues"
ENCORE
Ending SE: Hitori Janai Kara -Theme Of LIVE-GYM- / *Unreleased Song*
Venues
Hall & Arena Tour

Dome Tour

B'z LIVE-GYM 2015 -epic night-