New Horizon
Jump to navigation
Jump to search
New Horizon
Album by Tak Matsumoto
Released
April 30, 2014
TBD
Genre
Instrumental, Rock, Jazz
Label
Vermillion Records
House Of Strings
335 Records
Producer
Tak Matsumoto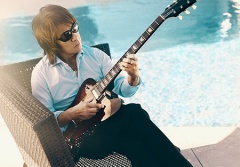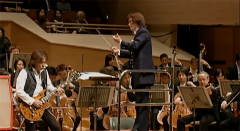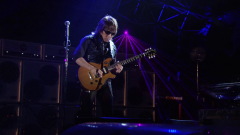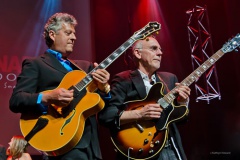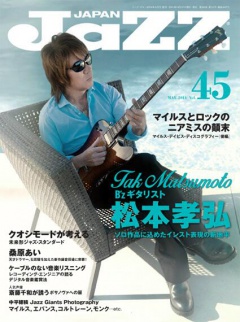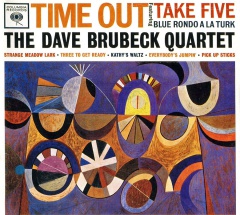 New Horizon is the tenth studio album by Tak Matsumoto, released on April 30, 2014. As with Tak's previous album Strings Of My Soul, the album is also scheduled for an international release at a later date and will again be produced by Tak alongside 335 Records' Paul Brown. The cover of the album and various promotional materials feature Tak's new signature Gibson Firebird guitar.
The theme of the album was to explore arenas that Tak had not yet experienced in his musical career thus far. Unlike with the oriental-themed Hana and hard rock release of DRAGON FROM THE WEST, New Horizon sees Tak journey more into the jazz style he began cultivating in his 2010 and 2012 releases. In addition to highlighting guitar in ways he had not previously, the album also features solos for various other instruments, all of which were played freeform. Tak described the album as containing more variety than his past works, with the general makeup of the album being quite different to the rest of his catalogue. As with his previous release, the album features a vocal song in addition to its variety of instrumental offerings with American soul singer Wendy Moten as guest performer. The lyrics to the song, titled "Feel like a woman tonite", were again written by Dax Reynosa who had done the lyrics for "Live Life" on Strings Of My Soul.
The only tie-in promotion for the album came with the title song "New Horizon" being featured in a series of Sagawa Express commercials. Tak met with the producers of the television spots, viewed the footage of the commercial, and chose a section of the song he felt most suited the project from those he had recorded. In an additional promotional campaign offer announced on April 18, 2014, it was revealed that copies of the album would come packaged with a special card that could be redeemed to earn a chance to win one of 300 specially-pressed vinyl editions of the album.
The album was supported by his first true solo tour, Tak Matsumoto LIVE 2014 -New Horizon-. The tour, which ran from May to June of 2014, featured new and old support members for the shows, including Yoshinobu Ohga, who has worked with both Tak in his solo efforts as well as numerous recent B'z live outings.
Production and information
According to an interview in Be With! Volume 101, work on the songs that would eventually find their way onto the album began sometime in 2012. However, due to commitments stemming from the 25th anniversary for B'z and the subsequent tour, Tak put the album on hold temporarily. While the work's songs were composed over a period of roughly two years, actual production on the album began in December 2013 and was completed quickly in only a matter of months.
Tak explored a great number of ideas for the album. Initially, he wasn't sure what type of tracks to include on the work, as recounted in Be With!:
| | | |
| --- | --- | --- |
| " | "Be it self-composed songs or cover songs, I tried out a lot of ideas, but they were lacking my personal sense of direction—where I wanted to go with it. I really pondered over it for quite a while until our 25th anniversary came up, but I thought I'd consider it more while on the road. By the time the 25th anniversary tour ended, I still hadn't come to a decision. After November's EX THEATER ROPPONGI show, I went back into the studio and thought I'd give up on it for the time being if I didn't come up with something. I wondered about what I should do, so I tried getting the songs I'd come up with into shape and, if I couldn't bring everything together, I said to myself I would give up on it for now. | " |
For the release, Tak hadn't considered a collaboration with another artist unlike in 2010 or with an orchestra as in 2004. This was a work he intended to begin a new chapter of his career after his previous album's retrospective status serving to allow him to move on to new endeavors. After the B'z tour finished and he was entirely free, Tak had a small window of time with which to decide how the project would go:
| | | |
| --- | --- | --- |
| " | It became about how much I could put together in two weeks. I was able to package everything together in such a way that I was content with going ahead with producing and recording the album. The schedule for the solo tour was already set, but I was thinking, "If I can't get this together now, we'll have to cancel everything." It was almost like if I couldn't get it all together in those two weeks in December, I would have to go to the office and tell everyone, "Maybe no solo project after all..." (laughs) | " |
Tak again entrusted Paul Brown from 335 Records, the record label of friend and colleague Larry Carlton who would be releasing the album overseas, with advising aspects of the production. This time around, Brown was involved in the mixing process, as well as with selecting and ordering tracks for the Western release and also introduced Tak to many of the support musicians that make appearances on the album. Tak mentioned that the resulting recording sessions went very smoothly and were very productive. Specifically, he mentioned Brown as helping a great deal and bringing out the most in each song, entrusting him with many of the songs and with mixing:
| | | |
| --- | --- | --- |
| " | What really surprised me was what happened with the horn section. I originally had one prepared in Japan that we would use as a base. Paul then directed and changed several things here and there. If it had been in Japan, that would have been difficult, but this time, everyone was really flexible and agreed to adjust things. We started with using what Terachi-kun had come up with as a base before, and decided, "This needs a little bit more of that here" while changing it bit by bit. Everyone was really nice and would do anything if it meant we'd get a better song out of it. Paul also gave very detailed instructions for them. | " |
The compositions for the album differs a great deal from Tak's previous works, as he felt he had full instrumental freedom this time around. As a result, it led to new territory, such as wind instruments serving as a primary instrument for the first time in one of his works. Tak stated that while he composed freely for the album, he may have deliberately added jazz sections here and there. Notably, all of the solos of the non-guitar instruments are played as improvisations. For his guitar parts, Tak would not call them spontaneous improvisations exactly, instead stating that:
| | | |
| --- | --- | --- |
| " | Rather than calling them improvisations, I chose to use the good verses that I played while improvising and then incorporated them together. It really depends; there are times when the improvisation was really good and I would elect to use it as-is. But then there are other times when I would "manually" add them together while ensuring they flow well and are easy to listen to. | " |
In a number of instances throughout the album, Tak played with not just a guitar pick but utilized only his fingers as well. Additionally, Tak repeated that he recorded the guitar parts for the album the same way as he does during B'z sessions: for each song, he would continuously play a given melody over and over with different guitars until he found the one that was most suitable for the song in question. He noted while he's seen others that spend hours and even days attempting to find the right tone, he generally reaches that point quite quickly and decides, "This is it" early on and goes with it. Tak likewise reiterated that his aim with the album was the same as his goal with all of his work, which was to create the kind of music he would like to listen to himself.
The release of the album was promoted prior to making it to store shelves in a number of different avenues, including television, internet coverage, magazine featurettes, and radio appearances. On April 21, Tak appeared on Tokyo FM to discuss the album and his career, during which album tracks "Gakuseigai no Kissaten", "New Horizon", and "Feel like a woman tonite" were previewed at length for the first time.
While no music videos were filmed for the release, two brief television commercials for "New Horizon" and "Rain" began airing in the weeks leading up to the album's release.
Track listing
All music composed by and guitar performed by Tak Matsumoto unless otherwise noted.
International Edition
As with Tak's previous solo album Strings Of My Soul in 2012, the album is again tentatively scheduled for an international release following the domestic Japanese launch. Paul Brown again produced the album and will oversee its western release. Brown assisted not just in the production but also the mixing and ordering the track listing for the Western release. Tak mentioned in an interview with B'z fanclub magazine Be With! that the details of the Western edition were not "set in stone" just yet and there were still decisions to be made. He mentioned going through the album track-by-track with his production partners to decide which tracks were good fits for the American market, with unfit tracks set to be left out.
On April 27, 2014, Amazon.com listed New Horizon for pre-order with an expected release date of July 8, 2014. By May, the release date on the website had been set for September 9, 2014. Currently, the date of release has been left as undetermined.
Personnel
Credits apply to original Japanese track order
Tak Matsumoto: Guitar, Music Composition (Tracks 1, 3, 4, 5, 6, 7, 9, 10, 12), Arrangement
| | | |
| --- | --- | --- |
| Support Members | Production | |