B'z Special LIVE at EX THEATER ROPPONGI
Jump to navigation
Jump to search
B'z Special LIVE at
EX THEATER ROPPONGI
Event featuring B'z
End Date
November 30, 2013
Country
Japan
Songs
19
Home Video
Uchouten (Bonus Disc)
Shows
1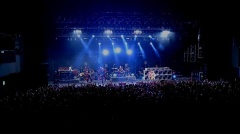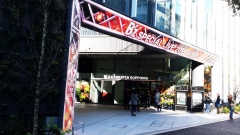 B'z Special LIVE at EX THEATER ROPPONGI was a special event featuring B'z that served as the grand opening performance for the TV Asahi-sponsored EX THEATER ROPPONGI. The show took place on November 30, 2013, two months after the band's concluding 25th anniversary show for B'z LIVE-GYM Pleasure 2013 -ENDLESS SUMMER-. On December 3, 2014, it was announced that the band's fifty-first single "Uchouten" would be issued with a limited edition that contained nine of the songs performed from the show.
Tickets were available only through a lottery promotion through purchasing copies of the B'z The Best XXV collections. The eventual winners were then notified in mid-November. The show served as the first sponsored special event featuring B'z since 2012's Pepsi NEX showings in Osaka and Tokyo. In total, it was the band's third sponsored outing to be carried out in tandem with other brands and was the ninth occasion that a B'z show served as the concert debut of a venue.
Being a billed "special live", B'z took the opportunity to play several songs that would not normally be found in their usual setlists. The show opened with ACTION album song "Kuroi Seishun", which had not been played in the five years since 2008's album tour prior to the show. It was followed by a very rare performance of the 15th anniversary single "Yasei no ENERGY", itself not having been played live in the ten years since 2003. "ONE ON ONE" and "Perfect Life", two other ACTION album tracks, also saw performances, with the latter having been included during the hall dates for B'z LIVE-GYM Pleasure 2013 -ENDLESS SUMMER-.
Other album songs performed included 1994's "Yami no Ame" that had not been played since the first part of that year's "THE 9TH BLUES" tour and 1999's "SKIN" and "Nagai Ai" from Brotherhood. Singles "ultra soul" and "Ichibu to Zenbu" were also carried over from the recent Pleasure tour, as well as classic 1989 fan-favorite "OH! GIRL" that had been previously performed during select hall tour dates along with 2002 album track "STAY GREEN ~Mijuku na Tabi wa Tomaranai~". The singles of "Konya Tsuki no Mieru Oka ni" and "Shoudou" were also revived for the occasion, followed by encore returns of "BANZAI" and "IT'S SHOWTIME!!".
"Q&A" from B'z The Best XXV 1999-2012 was likewise performed, along with the live debut of a brand new song of an unknown title that had earlier been heard as the ending music to the ENDLESS SUMMER tour, which was later revealed as "Kimi wo Ki ni Shinai Hi Nado". Afterward followed a memorial cover of Japanese metal band LOUDNESS's 1985 song "Crazy Nights". The performance taking place on November 30, 2013 came five years to the day of the band's founding drummer Munetaka Higuchi passing away on November 30, 2008, with both Tak and Koshi being longtime fans and friends of the band.
Touring Band
Setlist
A

icon denotes performance excerpted for limited edition copies of 2015 single "Uchouten"
ENCORE
BANZAI
Home Video Recordings
November 30, 2013 — EX THEATER ROPPONGI
Concert recorded and partially available on Uchouten (CD & DVD Edition).
Venue
2013.11.30

EX THEATER ROPPONGI