ACTION
Jump to navigation
Jump to search
ACTION is the sixteenth studio album by B'z, released on December 5, 2007. The release of the album was immediately preceded by the induction of B'z to Hollywood's RockWalk of fame. They became the first Asians to be inducted and joined the likes of AC/DC, KISS, the Rolling Stones, and Van Halen. Two singles—the emotional ballad "Eien no Tsubasa" written for the film For Those We Love and hard rock single "SUPER LOVE SONG"—were released in the months leading up to the album.
The album's production was more troubled than any other in B'z history to that time. Recording began in January and was not completed until late in the fall. Initial difficulties arose due to Tak's desire to explore new territory as a result of the album being representative of their twentieth anniversary year. After battling several unproductive sessions, the band were left with one of their most eclectic albums to date that fuses jazz, pop, and shuffle rhythms for the first time in their history.
Despite its length of seventeen tracks, all but three of the songs have been performed live. The resulting album tour B'z LIVE-GYM 2008 "ACTION" would also prove one of their longest, lasting from January to August of 2008 and leading into their twentieth anniversary tour B'z LIVE-GYM Pleasure 2008 -GLORY DAYS-. After a half-decade of dormancy, several songs from the album were played during B'z Special LIVE at EX THEATER ROPPONGI in 2013. The show was a one-off performance tied to purchases of B'z The Best XXV 1988-1998 and B'z The Best XXV 1999-2012.
Upon release, ACTION debuted at the top of the Weekly Oricon Albums chart with 292,987 physical copies sold. It would be ranked fifth for the month, number 36 for the year of 2007, and continued to sell well into 2008 where it ranked number 76 for the year. It has been certified Platinum by the Recording Industry Association of Japan and is nearing Double Platinum status with sales of 440,108 last reported. In 2018, the album was reissued as a two vinyl set made available to visitors of their thirtieth anniversary public exhibition entitled "SCENES" alongside all other studio albums to that point.
Production information
The first sighting of B'z activity for the year of 2007 was the announcement of their first international tie-in. The PlayStation 2 racing video game Burnout Dominator was released worldwide in March and featured an all-new B'z song in every territory entitled "FRICTION". The song was included as a means of promoting the game primarily in Japan, but it would later be included the next year in the sequel game Burnout Paradise that was likewise released globally. The song was also published worldwide on iTunes at the same time as part of the soundtrack. This version of the song would be re-recorded with new vocals and an altered arrangement for the year's studio album under the title "FRICTION -LAP 2-".
It was shortly thereafter that B'z made their proper international debut on the digital platform when the self-titled B'z EP was released to virtually every western storefront on iTunes yet was not made available in Japan. Although the release was aimed at an international audience, only two of its five tracks were in English: the aforementioned English version of "Home" and the 2005 THE CIRCLE album closer "Brighter Day"—one of their select few English songs with no Japanese exemplar. The album contained highly-desired versions of three popular B'z singles: a remix of "Ai no Bakudan", a re-recording of "ultra soul" that most resembled its more recent rock-oriented LIVE-GYM incarnations, and an overhauled reversion of "Samayoeru Aoi Dangan" that featured an entirely new arrangement that would serve as the basis for 2012's English edition "Into Free -Dangan-".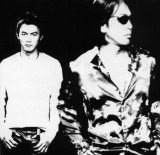 While this provided insight into the band's work in the early months of 2007, it was not yet known what form the rest of the year's releases would take. This was answered shortly thereafter with the announcement of their forty-third single: sentimental power ballad "Eien no Tsubasa". The song was paired with B-side "Lonely Stars" and remains one of the few times in which music videos were produced for all tracks on a single, with the latter's being a short version. In the lead-up to its release, B'z embarked on one of their busiest years with regard to television, with five appearances in the week of its release on programs such as MUSIC FIGHTER (twice—once for the title song and once for the B-side), CDTV, and Music Station.
Beginning in June, B'z embarked on SHOWCASE 2007 -19- in which the band ran the gamut of Zepp venues in Sapporo, Sendai, Tokyo, Fukuoka, Osaka, and Nagoya. As is now common for the events, B'z played a number of gems and obscure songs for the tour, including "HOT FASHION -Ryuukoukata-" for the first time in 14 years, "ARIGATO" for the first time not on TV, "The Wild Wind", "Naite Naite Nakiyandara", and "Haru", as well as "Out Of Control" and "Odekake Shimasho" for the first time since the mid-1990s. The show at Zepp Tokyo would be released on DVD in 2008 and on Blu-ray in 2009. The concept was broadened and expanded into yet another of its kind, the aptly-named B'z SHOWCASE 2007 -B'z In Your Town- which toured smaller areas of Japan throughout July and August. Further fan favorites were added on varying dates including "The Loose", 2001 B-side "ROCK MAN", the return of 1998 single "HOME", the live debut of "BANZAI" B-side "Magnolia", and even GREEN album ender "GO★FIGHT★WIN". None of the shows were released in full, though select moments were highlighted on the 2008 "Official Bootleg".
This would also mark the first year at which B'z performed at a music festival when they were announced as one of the headline acts for SUMMER SONIC 07. The abbreviated setlist was akin to the summer's earlier SHOWCASE tours and opened with the as-yet-unreleased "SUPER LOVE SONG" and included "FRICTION" amongst some of their live staples such as "ultra soul" and "Ai no Bakudan". Shortly thereafter, B'z soon announced the year's second and overall their forty-fourth single in the oft-previewed "SUPER LOVE SONG". The third of its three tracks would be the aforementioned "FRICTION" as it appeared in Burnout Dominator. The title song was a great challenge initially and was not intended as a single. It was originally a much slower, ballad-like composition. It wasn't until months later when they returned to Japan that they reworked the song to its eventual state.
Recording and release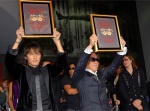 Although their second-longest album in terms of total songs included, ACTION was an album that did not come easily. Koshi described its production as being the result of a struggle and slump unlike anything that had preceded it. With their twentieth anniversary looming and a tour to support this album already planned, there was immense pressure to complete the album on time. This slump was partially the result of B'z deliberately leaving their comfort zone to find the limits of their capabilities as a band.
Their motivation behind trying so many different flavors for the sessions stemmed from this being a lead-in to their twentieth anniversary year. There was an expectation within the band to push their boundaries, which led to more complex compositions and ones that relied less on guitar than previous works. Songs that evoke Latin, jazz, and shuffle rhythms as well as the golden era of 1950s American pop music. Combining the history of those many genres produced some of the album's most memorable works and laid the foundation for experimental tracks that would follow on proceeding works.
While the album includes seventeen tracks, a total of twenty-three songs were produced during the production period. Songwriting began in September 2006 with the band entering the studio in January 2007 in Los Angeles. Surprisingly, even after a month of effort, not a single song was completed in that entire first month. "It was the first time that songwriting had not gone well," Tak said, adding, "it was a terrible shock." It was here that the band welcomed studio specialist Hideyuki Terachi to aid with arrangement, who has since served that role for many of their B'z and solo activities.
Tak recounted that he started to dread going into the studio because the initial sessions were not at all amounting to what they expected. To overcome the slump, Koshi noted in the interview that they "started doing music with a different feel to it, and that went well" which led to them returning to their usual "recording rhythm". As a result, the album contains a large number of upbeat tracks that deal with a great variance of themes and topics such as the lively "HOMETOWN BOYS' MARCH" and the sentimental "Boku ni wa Kimi ga Iru". The album ended with the Ending SE from the previous year's LIVE-GYM, "BUDDY", which had its lyrics significantly overhauled.
Along the way, some form of the word "light" was considered a candidate for the album's title. The slump that had delayed the album's completion resulted in the song "Koubou" (Ray of Light) as the prevailing attitude in the studio was one of seeking light. Instead, the overall theme was not just "light" but "taking action while seeking light".
During the album tour, before performing "Koubou" near the end of the show, Koshi detailed the the struggle and overall theme of combating depression and adversity:
"
When we released the album [called ACTION] in November last year, if I think about it, it sounds like a long time ago. It's so long ago, that a couple of seasons have passed. By releasing the album, we gained some new experience; during its production, we encountered a lot of obstacles along the way. In that moment, we thought we just had to make some kind of "ACTION" happen or we'd never make progress. That's what we kept in mind all that time. Of course, it's all right to make some ACTION happen... But when you take ACTION, it's bound to the expectation that everything will go the way you have imagined. That's a completely different problem and it's difficult to solve.

Of course, some will say, "That went well." But, there will also be those who say, "Not a lot has changed." Or even some who will of course say, "Now it's worse than before." So ACTION for what purpose, you ask?

For example, when you find yourself in a very difficult situation but you're still trying to make the best of it; when you become desperate and someone else sees you in that state; when someone's extremely despondent and pathetic, there are those who will make fun of that person. But, what if there's someone who looks at that person and is moved by their will to live on that then surrounds them like a shining aura? There's that possibility, right?

Of course, there might be times when not even one person bothers to look. In that moment, you should just imagine yourself tomorrow, or yourself next week, or yourself next year, or yourself in 10 years. There should be people who make ACTION happen the same way you do, right? We, as a band, have hit a lot of walls during our career. And during those times... We wanted to show our desperate side and take ACTION in order to progress little by little. That's the band we want to be.

"
In September, it was announced that B'z would become the first Asian artists to be inducted to Hollywood's RockWalk, joining the likes of Elvis Presley, AC/DC, Aerosmith, Queen, Jimi Hendrix, and John Lennon. Many of the band's longtime support members were in attendance including Stevie Salas, Juan Alderete, Shane Gaalaas, and Steve Vai who ushered in the duo's nomination. The induction was a widely-reported news item in Japanese newspapers and television. The ceremony took place on November 19, 2007 and saw the band deliver messages of gratitude in both English and Japanese. At the ceremony, B'z live footage from previous years was shown alongside samples of songs from their upcoming album which had been set for release just weeks later.
Having just "rebooted" the LIVE-GYM the year prior with B'z LIVE-GYM 2006 "MONSTER'S GARAGE", the band continued ahead by adding returning support member Barry Sparks for LIVE-GYM 2008 "ACTION". The tour became one of their longest, lasting from January to August of 2008 with the band then heading into Pleasure 2008 -GLORY DAYS- for their twentieth anniversary at Nissan Stadium. Not only were album songs performed, but also a great deal of hidden gems such as "Kimi no Naka de Odoritai", "LADY-GO-ROUND", "FRIDAY MIDNIGHT BLUE", and "FOREVER MINE".
Track listing
All music and guitar by Tak Matsumoto. All lyrics and lead vocals by Koshi Inaba.
Reversion history
Original Song
Reversion History
FRICTION
B-SIDE & ALBUM SONG* (2007)

RE-RECORDING: FRICTION -LAP 2- (2007)
Complete re-recording with new vocals, new guitar, and a new arrangement; released only on ACTION.


BUDDY
ALBUM SONG (2006)

UNRELEASED: BUDDY [Demo Version] (2006)
Premiered as the Ending SE for B'z LIVE-GYM 2006 "MONSTER'S GARAGE". A studio version that differed greatly would be released the following year on the 2007 studio album ACTION. The original version's lyrics were almost entirely different and featured an arrangement that was significantly different from the released edition.

Live appearances
Live Performances
Home Videos
Sales data
No.
Cover
Album
Physical Copies Sold
Chart Positions
Certification
FIRST WEEK
LIFETIME
WEEK
MONTH
YEAR
16

ACTION
2007.12.05

292,987+

440,108+

1

5

36 (2007)
76 (2008)

Platinum
Personnel
B'z
Support Members
Production