The Ballads ~Love & B'z~
Jump to navigation
Jump to search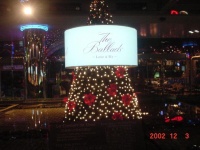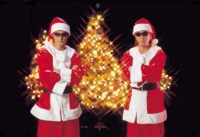 The Ballads ~Love & B'z~ is the fourth compilation album by B'z, released on December 11, 2002. The album is one of many by the band to compile past works into a new package, and is the only of those to be ordered around a specific theme. As with their other releases of the sort, all songs contained have been digitally remastered prior to being included. Of particular note is that despite being a "best of" compilation, only five of the sixteen tracks are singles. The rest consist of B-sides and album tracks released between 1991's "ALONE"—found here in its IN THE LIFE album version— and "Everlasting" released in summer of the same year on studio album GREEN. While several of the tracks have been collected elsewhere, many were first compiled here. Unbeknownst to many due to no notation in the title, 2000 hit single "Konya Tsuki no Mieru Oka ni" is found here with yet another alternative guitar solo take that differs from the alternate version already found on ELEVEN two years prior.
Originally, B'z had planned to release a ballads compilation in the winter of 2001 as a follow-up to the previous year's B'z The "Mixture". In fact, the idea was first proposed as an alternative project in place of the latter album. The album is packaged in a box that opens outward and comes in a limited red edition and a more common white version; the former of which is still available for purchase at LIVE-GYM events. Notably, the exterior plastic has a seal attached that has been affixed depending on the occasion—for the band's fifteenth anniversary in 2003 and for various holidays such as New Year's, Valentine's Day, and Christmas. The internal packaging art was prepared by celebrated contemporary Japanese artist Nobumasa Takahashi which features an illustrated bear overlooking both members of the band. The paper booklet common to most other releases is replaced with a small book that contains the art and lyrics.
The album both opens and closes with one of the band's foremost ballads: 1992's "Itsuka no Merry Christmas". The original version, first found on mini album FRIENDS, became a common holiday theme in the years since. While the official track listing ends with FRIENDS II standout "SNOW", a hidden track is attached that plays thereafter. This "secret version" of "Itsuka no Merry Christmas" is a dance-oriented version arranged by longtime B'z support member and bassist Akihito Tokunaga. As with the unmarked alternate version of "Konya Tsuki no Mieru Oka ni" mentioned previously, it can only be heard here and has not been collected elsewhere in the years since.
Given it was a compilation work, B'z did not participate in a great deal of specific promotions. An image of the two band members dressed in Santa Claus outfits was used to publicize its release, along with a B'z-themed Christmas tree that was displayed at Tokyo Dome City Fountain beginning December 1 through the holiday season. The band had three television appearances that coinciding with the release: an early December appearance on CDTV to comment on the compilation, a performance of "Itsuka no Merry Christmas" on 130 Million People Choose! Top 30 Artists 2002, and a double performance of "Mou Ichido Kiss Shitakatta" from the album and 2002 single "Atsuki Kodou no Hate".
Upon release, The Ballads ~Love & B'z~ debuted at the top of the Weekly Oricon Album chart with 1,050,125 copies sold in its first week on shelves. This would be the final B'z compilation or album of any sort to move 1,000,000 physical copies in its first week, as it was released on the cusp of music being available digitally by various means. The album would be the third best-selling for all of 2002 and in total has sold 1,713,726 copies. As a result, The Ballads ~Love & B'z~ has been certified Million by the Recording Industry Association of Japan.
Track listing
All music and guitar by Tak Matsumoto. All lyrics and lead vocals by Koshi Inaba.
★ First time collected in a compilation in original form
※ Alternative version from source song
Sales data
No.
Cover
Compilation
Physical Copies Sold
Chart Positions
Certification
FIRST WEEK
LIFETIME
WEEK
MONTH
YEAR
4

The Ballads ~Love & B'z~
2002.12.11

1,050,125+

1,713,726+

1

—

3

Million