GOLD
From B'z Wiki
GOLD
Single by B'z
Released
August 8, 2001
Promotions
#1 (World Swimming Fukuoka 2001 Theme)
Length
12:17
Label
Rooms Records
Producer
Tak Matsumoto
B'z singles chronology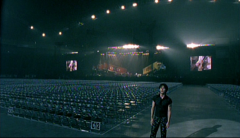 GOLD is the thirty-second single by B'z, released on August 8, 2001. The single, a classic ballad, was in stark contrast to the high-energy of the band's previous single. Despite coming out within the band's GREEN era, the single was not collected on the album unlike with "ultra soul", which received an updated version for the release. When asked why, Koshi said that since the band already had another prominent ballad with "Everlasting" for the album, they did not feel that "GOLD" would be a good fit. However, the song was later collected on The Ballads ~Love & B'z~ in 2002, B'z The Best "Pleasure II" in 2005, and B'z The Best XXV 1999-2012 in 2013.
The song was originally performed on only one Japan tour, that being for B'z LIVE-GYM 2001 "ELEVEN" where it was added late in the tour and premiered live before it was officially released. It was also one of twenty songs performed in the band's first international performances during B'z LIVE-GYM in Taipei & Hong Kong 2001. Twelve years later, the song was revived as part of B'z LIVE-GYM Pleasure 2013 -ENDLESS SUMMER- where it alternated with "Gekkou" in the hall tour, while in the dome portion of the tour it alternated with "ALONE" and "OCEAN". The first home video release featuring a performance of the song was on the Premium Live DVD included in the limited edition of B'z The Best "ULTRA Pleasure". Ten performances were showcased, with the footage for "GOLD" being the first glimpse of footage from the "ELEVEN" tour. Later, in 2013, the full show was released on DVD as B'z LIVE-GYM 2001 -ELEVEN-.
A special promotional video was filmed in and around Sapporo Dome during the band's touring schedule that featured members of the band's staff in the spotlight as they prepared and assembled the stage. B'z also performed "GOLD" on television twice in the year 2001. First on Music Station in August just a week prior to its official release, and again on the year's Music Station SUPER LIVE in December where they paired it with "ultra soul". Additionally, the song was also used as the theme to coverage of the Fukuoka World Swimming tournament in 2001.
The single debuted at the top of the Weekly Oricon Singles chart, where it spent ten weeks while becoming the band's twenty-eighth consecutive to take the top spot in its opening week. On its way to Double Platinum status, "GOLD" finished as the twenty-seventh highest selling single of the year 2001.
Track listing
All music and guitar by Tak Matsumoto. All lyrics and lead vocals by Koshi Inaba.
GOLD

Sorry, your browser either has JavaScript disabled or does not have any supported player.
You can download the clip or download a player to play the clip in your browser.

The composition and arrangement of the song rely heavily on strings, with support from horns throughout the instrumentation. The titular "GOLD" refers to the color of the sky at sunset.

ultra soul ~Splash Style~

Sorry, your browser either has JavaScript disabled or does not have any supported player.
You can download the clip or download a player to play the clip in your browser.

A new, acoustic arrangement of the previous single, "ultra soul ~Splash Style~" became the second of many different versions for the popular song. The arrangement showcased here has not been played live, although most of the others have been in varying forms.

Makka na Silk — Red Silk, まっかなシルク

Sorry, your browser either has JavaScript disabled or does not have any supported player.
You can download the clip or download a player to play the clip in your browser.

The song was dead stock leftover from the band's 2000 album, ELEVEN. In the song's interlude, the melody undergoes a significant shift into a blusey-tempered slow tempo. The song has never been found elsewhere or been played live.
Live appearances
GOLD [33 SHOWS]

ultra soul [378 SHOWS]

Makka na Silk
Sales data
No.
Cover
Single
Physical Copies Sold
Chart Positions
Certification
FIRST WEEK
LIFETIME
WEEK
MONTH
YEAR
32

GOLD
2001.08.08

400,020+

562,000+

1

2

27

2x Platinum
Personnel
B'z
Support Members
Production