juice
Jump to navigation
Jump to search
juice
Single by B'z
from the album ELEVEN
Released
July 12, 2000
Promotions
#1 (Onepu! Ending Theme)
Length
07:44
Label
Rooms Records
Producer
Tak Matsumoto
B'z singles chronology

28th Single



May
(2000)
29th Single



juice
(2000)
30th Single



RING
(2000)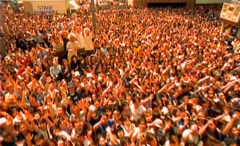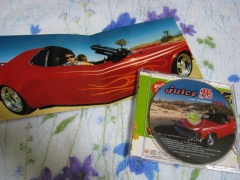 juice is the twenty-ninth single by B'z, released on July 12, 2000. The single was released a month and a half after that of "May" and would quickly become one of the band's best-regarded singles in their entire catalogue. With its hard rock riffs and suggestive lyrics, "juice" debuted at the top of the Oricon Weekly Singles chart and became their record 25th consecutive to do so. The single's cover was the first time that B'z had used an illustration in place of traditional photography. In addition, a special limited edition variant of the single was sold exclusively at shows for B'z LIVE-GYM Pleasure 2000 "juice".
When the song was collected on the proceeding album ELEVEN later in the year, it was added in the form of a remixed version entitled "juice (PM Mix)". The new mix, which gave the guitar and vocals slightly more prominence, was named after the Spanish phrase "Poquito Mas" (A little bit) which was also the name of a restaurant chain in Los Angeles that the track's drummer, Brian Tichy, introduced to the band. Due to its popularity, the original single version has been collected on all eligible compilations, with appearances on B'z The Best "Pleasure II" in 2005, B'z The Best "ULTRA Pleasure" in 2008, and B'z The Best XXV 1999-2012 in 2013.
An English version of the song was one of five English reversions produced for the band's self-titled debut English album. The album, released globally on July 25, 2012, was the band's first worldwide release. This version of the song had been premiered a year earlier during B'z LIVE-GYM 2011 -long time no see-. An early demo of the English version was uploaded as an unlisted video to the band's YouTube account, accessible via a secret QR code printed in local newspapers in Los Angeles at the time. The demo of the song featured Koshi's English vocals on top of the existing "juice" instrumentation. When the English version of "juice" was released a year later, it was in entirely re-recorded form with a slightly altered arrangement and greater post-production effects.
The promotional video filmed for the song remains a unique entry in the B'z catalogue to this day. Instead of filming on a sound stage or using concert footage, B'z organized a "guerrilla live" specifically for the occasion. The filming was done on the streets of Sapporo outside of the Chisun Hotel and was open to the public, attracting an extremely large number of spectators both on the ground and in nearby office buildings. To ensure they had all of the shots needed, B'z played "juice" three times for the crowd, along with fellow rock singles "ZERO" and "girigiri chop". The resulting video opens with a radio DJ reading an e-mail from a fan.
| | | |
| --- | --- | --- |
| " | So, I just wanted to put on a song, but I got this message. From Norinorio-san, a woman. She writes: "I'm always enjoying your program. There's something I would like you to find out, so I've decided to contact you. I heard a rumor that B'z will perform on the street somewhere in Sapporo tomorrow. Is that true? If it's true, please find out where and why they're doing it!" Wait a second... No way, right? | " |
One of the most recognizable B'z songs in history, "juice" has been performed at almost more LIVE-GYMs since its release than any other, being bested only by fellow fan-favorite "ultra soul". Performances of the song can be seen on many of their live concert home video releases, including 2006's MONSTER'S GARAGE and the 20th anniversary show in 2008, GLORY DAYS. In 2013, "juice" was one of four B'z songs to be released for guitar-learning video game Rocksmith 2014 on Xbox 360, PlayStation 3, and PC. The song was packaged in a three pack of downloadable content alongside "girigiri chop" and "Easy Come, Easy Go!", joining "ultra soul" that was already available with the game itself.
Track listing
All music and guitar by Tak Matsumoto. All lyrics and lead vocals by Koshi Inaba.
juice

File:s29 01.ogg One of the truly hard rock singles by the band, "juice" has enjoyed wide acclaim amongst fans old and new alike. When performed live, the breakdown in the song between the guitar solo and the final chorus is often utilized for fan interaction, with Koshi calling upon the crowd in a call-and-response routine with varying exclamations and phrases, eventually culminating in the final riff. This, along with its inherent high energy, has made it a favorite of many fans and has garnered it a place on many of their live setlists since its release. As of 2020, it is currently their eighth most performed song. An entirely re-recorded English version was released as "Juice" on the band's debut English album in 2012. The original song was also used as the ending theme to the TV Asahi series "Onepu!". For its first album collection on studio work ELEVEN, a remix titled "juice (PM Mix)" saw a slightly heavier version with raised vocals and more emphasized guitar being released. The "PM" stands for "Poquito Mas" which was a small-time Mexican outlet at which the band commonly ate during production.

UBU

File:s29 02.ogg The production of this song marked the return of previous longtime B'z collaborator Masao Akashi. Masao, who had worked on many of the original B'z songs from the early years to the mid 1990s, returned to play bass and work on the arrangement here. As of 2013, it has been his last contribution to an arrangement with the band. Additionally, the track has not been collected elsewhere and has also never been played live.
Reversion history
Live appearances
juice [306 SHOWS]

UBU
Sales data
No.
Cover
Single
Physical Copies Sold
Chart Positions
Certification
FIRST WEEK
LIFETIME
WEEK
MONTH
YEAR
29

juice
2000.07.12

452,790+

674,000+

1

3

31

2x Platinum
Personnel
B'z
Support Members