B'z SHOWCASE 2015 -Shinagawa Uchouten NIGHT-
Jump to navigation
Jump to search
B'z SHOWCASE 2015 -Shinagawa Uchouten NIGHT-
SHOWCASE by B'z
Start Date
November 19, 2015
Country
Japan
Songs
14
Home Video
Unreleased
Shows
1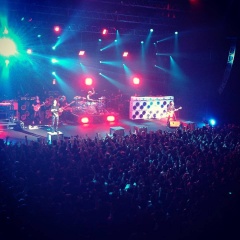 B'z SHOWCASE 2015 -Shinagawa Uchouten NIGHT- was a SHOWCASE by B'z that took place on November 19, 2015. The one-date concert uncharacteristically took place several months after the close of B'z LIVE-GYM 2015 -EPIC NIGHT- and was the second SHOWCASE of the tour, after March's SHOWCASE 2015 -Shimonoseki Uchouten NIGHT-. It was held at the Shinagawa Stellar Ball one day after the release of Koshi Inaba LIVE 2014 ~en-ball~, which was filmed at the venue the previous year. Tickets were available exclusively to members of B'z PARTY. The SHOWCASE served as a warm-up to the upcoming TV Asahi Dream Festival 2015 which had a similar, albeit reduced, setlist.
Recent singles "RED" and "Uchouten" opened the show, followed by "Ichibu to Zenbu" and 1992's perennial classic "ZERO", which was performed in its original rock arrangement as opposed to the bluesy version from the dome portion of EPIC NIGHT. Singles "Konya Tsuki no Mieru Oka ni", "Negai", and "Hadashi no Megami" all made appearances in the setlist as well after having previously been included during B'z LIVE-GYM Pleasure 2013 -ENDLESS SUMMER-. The 1997 single "Calling" was also performed during the show, with its last appearance coming as the closer to B'z LIVE-GYM 2011 -C'mon-.
The most notable inclusion of the night was the debut performance of "hole in my heart". The song was released as a B-side to the single "MOTEL" in 1994 and later collected on B'z The "Mixture" in 2000 but had not previously been performed live. SURVIVE era ballad "Naite Naite Nakiyandara" was also revived after not having seen the live stage in eight years, since B'z SHOWCASE 2007 -B'z In Your Town-.
While the setlist was similar to that of the earlier B'z LIVE-GYM 2015 -EPIC NIGHT- tour, only one album song outside of its lead single was performed at the show: album opener "Las Vegas". Singles "ultra soul", "girigiri chop", and "Ai no Bakudan" closed the show and were also performed during the aforementioned tour.
Touring Band
Setlist
★ Denotes a song that was not played during B'z LIVE-GYM 2015 -EPIC NIGHT-
Venues
2015.11.19 

Shinagawa Stellar Ball